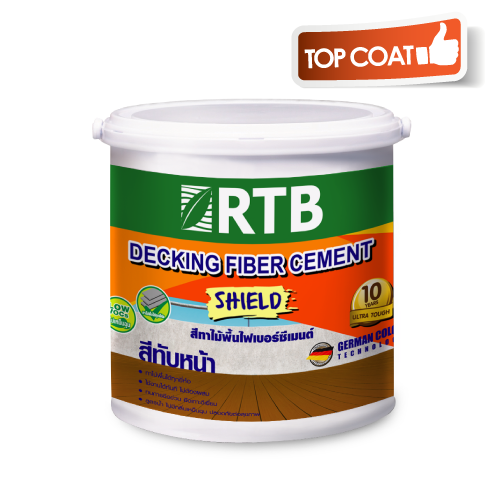 Decking Fiber Cement Shield
Rothenburg Water-based Decking Fiber Cement Paint is developed from the latest technology, Polymer Crosslink, from German.
Description
Product features / benefits
– Easy application, within 2 steps: primer and coat
– Low VOCs (Volatile Organic Compounds)
– Does not contain lead and mercury, so safe to users and environment
– Consist of 'Polymer Crosslink', high technology from German
– High quality film
– High scuff and water resistance
– UV resistance, so help extending timber's beauty better than solvent-based for 4 times
– Shade of transpanrent gives natural beauty of timber
Application method
Step1: Surface preparation
New surface : Clean the surface to be free from oil, dust and other foreign matters
Old surface : Sand out all old paint film and clean the surface
Step2: Stiring
Stir the product before use
Step3: Coat application
After apply 1 coat of Decing Fiber Cement Primer, apply 2-3 coats of Decking Fiber Cement Paint until you are satified with the color. Brush should be soft, and paint along the length of fiber cement.  For each recoat, leave it to dry about 1-2 hours for the next recoat.
Technical data
Type

Glossy

Tools

Dilution

Coverage      

(sq. meter/gal/coat)

Drying Time

Surface Dry

Dry to recoat

Dry to usable

Transparent primer

Gloss

Brush or Roller

Reay to use

50 – 60

30 – 40 mins

4 – 6 hours

–

Coat

Gloss & Matt

Brush

Reay to use