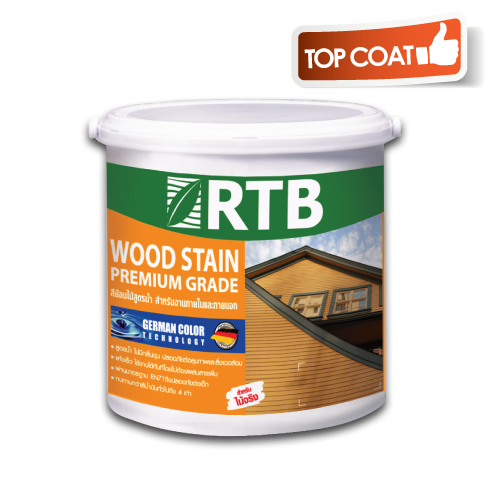 Wood Stain for Interior and Exterior
Rothenberg Premium Grade, Water-based Wood Stain produced by the latest German's technology which generaes the best safety for users. This product is consisted of Core Shell Polymer which creates the high flexible film to cover on wood; therefore, film will not peel off when the wood is shrunk. Moreover, this product holds the protection standard of anti UV test in several weather conditions, as a result, wood can be more durable for 4 times comparing with the solvent products. It is suitable to apply for interior and exterior wooden tasks.
Description
Product features /  benefits
– Low VOCs (Volatile Organic Compounds)
– Does not contain lead and mercury, so safe to users and environment
– Easy application as does not need to mix with thinner
– More durable than solven-based wood stain for 4 times
– Fast drying
– Intensive pigment allow for more coverages
– High gross
– Transparent shade allow for showing natural beauty of grains
– Resistant to alkali
– Resistant to fungus and lichen
– Protect timber from termites
Shades of Color
Technical data
Coverage

(sq. meter/Gal/Coat)

50-55 sq. meter/gal/coat

Drying time

Recoat after the first coat: 30 mins

Recoat after the second coat: 45 mins

Usable: 2 hrs.